About me
I´m Dutch and I gronw up in Ibiza in the end of the 70s. I have move to Mallorca long time ago. I speak diferent lenguages: english, german, italian, spanish and dutch. For me is very important to be able to comunicate with you, with your familay and with your friends. This is basic to create a good party.
I´m a profesional DJ with more than 15 years experience. 80% of my jobs are Weddings from many different countrys (UK, Germany, Sweden, France, Lithuania, Spanish, ..). My real job is read the audience and, play "the song" they want to ear.
About Music
I play any kind of music styles: Motown, Funky, 70´s, 80´s, 90´s, Pop Rock, R&B, all Latin music, Disco, Beach House, House, Techno, .. And also particular music styles frome each country.
For me, is also very important to have so much information as possible about the audience. Ages group, where they come from, music taste, etc. All your family and friends are welcome to make requests, I love to play "that song" that makes you happy. If you want to send me a playlist with your favorite song you are welcome
Prices
Basic Party DJ Services 550€/3hours
· Extra hours after the 3 hour Party DJ Services cost 75€ (vat included) and you can decide them in the last minutes during the party.
· Extra hours before the party starts, such as Cocktail and dinner are 50€ (vat included) each hour
· Ceremony is 75€ (vat included)
Sound, light, DJ Equipment and DJ Services are included in the price
Special Price for DJ Full Package 790€ (VAT included)
This package includes:
· Ceremony 1 hour: Sound equipment + wireless microphone + music for the special moments
· Cocktail 1 hour: Ambient music like chill out, typical Spanish acoustic songs,
· Dinner 3 hours: Nice ambient music, like romantic songs, acoustic songs, .. and wireless microphone for speeches.
· DJ Party services (3 hours)
Please take in consideration that sound equipment, light equipment and microphe are included in all the prices
DJ Equipment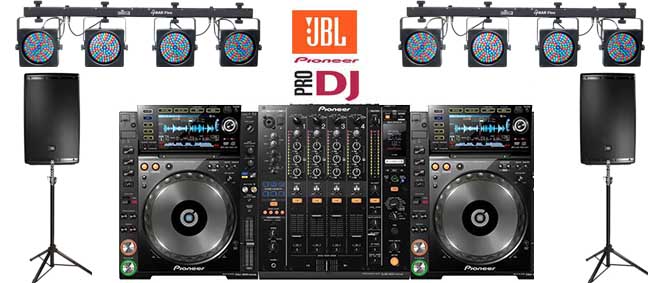 Disco lights
We provide Party lighting because creating a great lighting ambient for the party is very important.
Pioneer DJ Equipment
We work with the best equipment to get the best result. A professional DJ with a professional tools is a professional result.
JBL Sound
Sound quality is guaranteed, that´s because we work with the best brand from the DJ market.
How it works..
1. Booking. If you are interested in our services you can fill this booking form or just write us a email to djservices@mallorcabeats.com and give us the event date and what are you looking for (For example DJ services for Ceremony, cocktail, dinner , party..)
2. Price. We will respond to you with the real and final budget and answer other questions that you may have. We will try to meet in person or with Facetime, Skype, Hangout, Facebook, ... We talk about the event without any commitment, you think about it for a few days and if you are interested we go to the next step.
3. Close the booking. If you decide to book our services, you need to close the booking with the payment of the 50% of your booking fees. This amount will be deducted from the final bill. The balance needs to be paid not less than one week before the event.
4. After the last step we need information:
· Music: a list with at least 25 songs for the party with also all the special songs for the special moments (ceremony, cocktail, dinner). You can also give us a link to Google Drive, Dropbox, Spottily.. with your favorite songs.
We will save all the information about your wedding in a online folder that you can edit anytime (ad music files, write your playlist songs,..).
· Event Location: if is possible a link to the Finca, Restaurant, hotel, Yacht Club, Golf Club, .. with also a contact phone number from the person in charge.
If you have any doubt please contact me. Is very important that everything is clear and transparent and that you get all the information you need.
Extras
I can offer you some options that maybe you can need
Subwoofer JBL 18″ woofer 100€ (VAT INCLUDED)
If you want to add a extra bass to your party tell me that you want it
Projector and screen for 75€ (VAT included)
Screen size 180 cm (70 inch). Bigger screens available in cas you need it.
Battery speaker with wireless microphone for 120€ (VAT included)
You can use it for the ceremony, cocktail and dinner so you don´t need me until the Party
Very easy to use and to move
You can connect your iPad, laptop or another devices with a mini jack cable (3,5 mm cable)